As Hotels Rise, So Does Local 11's Revenue Base
As we pointed out in a recent Los Angeles Daily News op-ed column, "new construction in Los Angeles is the lifeblood of Local 11."
The union is a staunch advocate for new hotel developments—as long as the jobs are filled by unionized employees. New hotels bring the promise of unionization, which leads to increased dues revenue and a heftier budget for future self-serving advocacy campaigns.
So it should come as no surprise that, as new hotels emerge, Local 11's revenue base also increases. From 2006 to 2016, the number of hotels in Los Angeles County increased by roughly 13 percent, and hotel industry employment grew by more than 20 percent. At the same time, the union's membership essentially doubled, increasing from 11,936 to roughly 22,000 members. In a single decade, Local 11's total assets skyrocketed from about $6.7 million to almost $13 million. See below: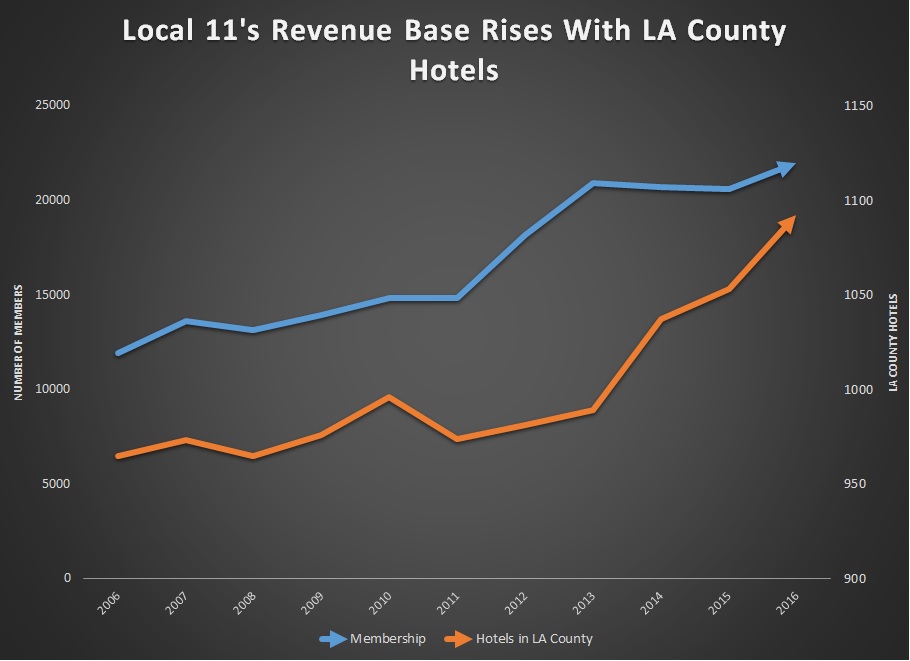 Over this same time period, Local 11's now-President Thomas Walsh saw his total compensation increase from just over $73,000 in 2006 to more than $103,000 in 2016, even as his union successfully advocated for lower union member wages. After the Los Angeles City Council voted to raise the minimum wage for hotel workers to $15 an hour in 2014, Local 11 lobbied for an exemption from the mandate as a way to pay employees less and make unionization appear more appealing to employers.
So when Local 11 claims to only "promote responsible development that reflects the interests of the people who live and work in Santa Monica," don't believe them. The union is acting for self-interest alone.